Dubarry of Ireland: The Irish Underdog's History & Origin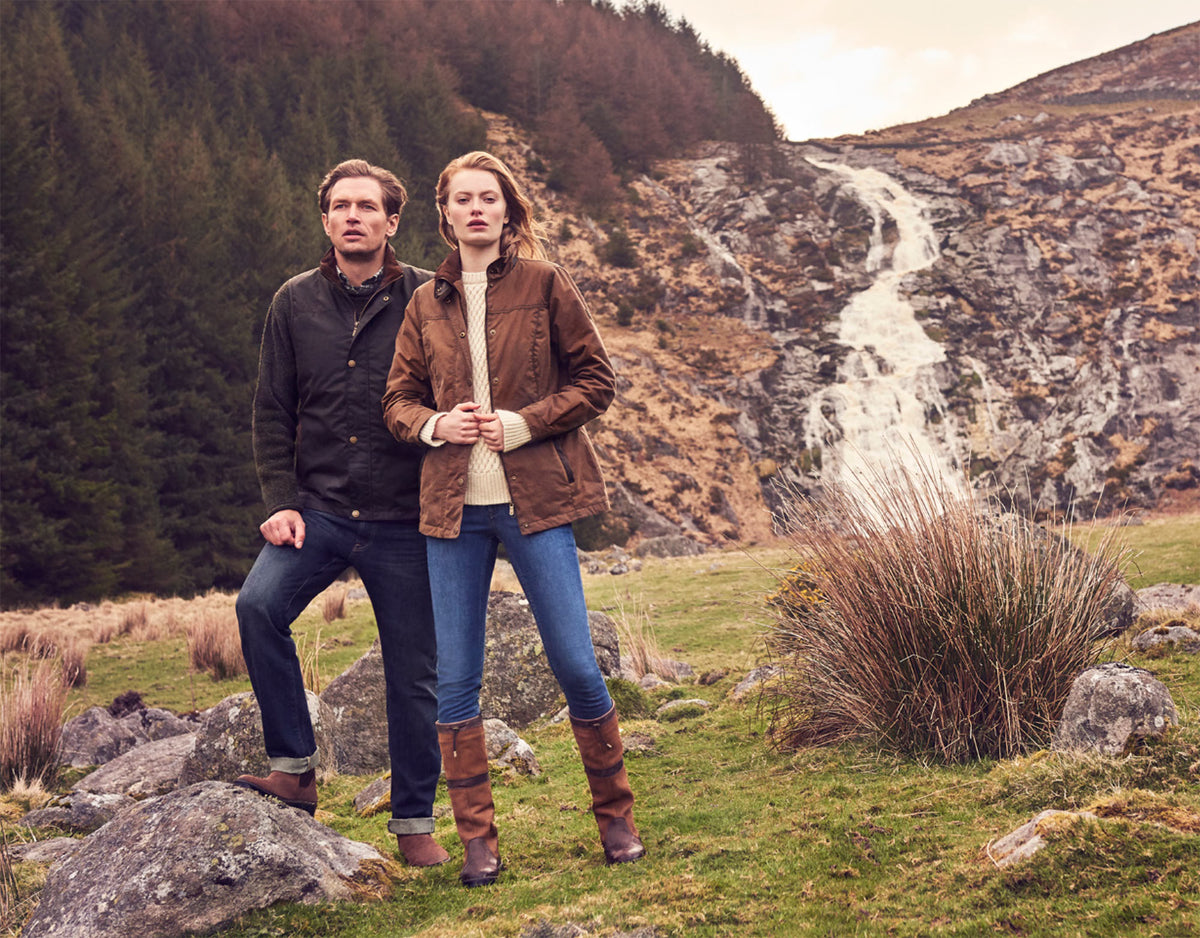 Like Country Club Prep's Facebook Page for More Awesome Content!
Ah, 1937 — what a year of memorable events. The Golden Gate Bridge in all its glory was completed in San Francisco, Snow White and the Seven Dwarfs made its debut splash in theatres all around America, and, across the Atlantic on the beautifully rocky coast of West Ireland, a company now dedicated to making high performance boating shoes and luxuriously comfortable clothing opened its doors under the unassuming name "Dubarry of Ireland."
Only three decades after their humble origins, Dubarry of Ireland became recognized internationally as a footwear company dedicated to craftsmanship, innovation and quality. Comparing Dubarry footwear to the competition would be similar to trying to compare a Lamborghini to a Honda Civic. Sure, both of them will get you to the grocery store, but one of them does it a lot faster, smoother, and turns a lot of heads when you pull into the parking lot.
Now informally known as "Dubes" (at least, that's what I've heard them called in passing by strangers), what you may not know is that these beautiful boating shoes have a historical track record of dominating the technical performance aspect of footwear markets and continuing to find new ways to set previously unthought-of industry standards.
Madame du Barry: Patron Saint
Let's rewind just a bit back to 1937. In the small town of Ballinasloe, Ireland, a co-operative initiative set by the city's newly formed Chamber of Commerce was looking for ways to provide more local employment opportunities to the city. One of the possible outlets they saw for boosting employment was through quality local shoemaking, specifically leather shoes that could be differentiated from other local Irish brands and draw a broader, more globalized market.
And so, as the original owners of this newly formed shoe company were brainstorming different ways to standout from other competition, it appears that somebody on their team might have been particularly fond of French aristocratic history — more particularly, the story of Madame du Barry.
Now, this is just speculation from my end, but it seems to me that only a true history buff would suggest naming a newly formed footwear company after a 16th century French aristocrat known exclusively for her beauty and multitude of high profile affairs (most notably with then French king, Louis XV.)
 But, even though Madame du Barry is definitely an interesting historical character whose life and influence can't be given justice in the scope of this article, the owners of this new footwear company in Ireland decided that using Madame du Barry's name had potential to give their brand a more continental, European flavor. It was eventually decided that the newly formed company would pay homage to the illustrious life of Madam du Barry as, you guessed it, Dubarry of Ireland.
THE SHAMROCK MAKES ITS SPLASH
At first, this new footwear enterprise spent its salad days crafting quality leather shoes of all purposes ranging from boating shoes to leather dress shoes. As a co-operative initiative it was fortunate enough to have a wide array of local hardworking men and women willing to cut their teeth by contributing their leather craftsmanship to the growing company, which was rapidly becoming a household name in Ireland by the mid 20th century.
This surplus of local talent, topped with a growing incentive to expand and commodify their distinct local identity, sparked Dubarry's design team to refine what they were already well known for amongst their coastal patrons: premium boating footwear.
The adolescent company really set their sights high in the early 1970s after a Scandinavian company approached Dubarry to develop a performance boating shoe capable of serving the dual purpose of being both practical and stylish, something that seems like an industry standard in the current moment but was fairly uncommon only 50 years ago. 
Unsurprisingly, the talented design team at Dubarry was able to create their first internationally successful entry into the technical boat shoe market — the Shamrock.
Even if you don't know what the Shamrock is, you've definitely seen it before. The innovative design is so stylish and efficient that it's been emulated by pretty much all of Dubarry's competition over the years.
I remember seeing a pair of Shamrocks being sported by someone on the cast of Deadliest Catch when that used to be a thing; the brilliance of the Shamrock isn't just that it serves a very practical purpose, it's also a boot that looks and feels great to the casual buyer as well.
The 90s: Dubarry Does What Dubarry Does Best
Only about a decade after Dubarry became internationally recognized for the Shamrock sailing boot, the company took new ownership in 1983 from then finance director Eamon Fagan.
Fagan recognized the success of honing in on niche aspects of the footwear market, such as through manufacturing high performance boating shoes, as a way to further standout from the competition both globally and at home. But, Fagan also recognized the need to create quality products that suited the demands of both technical and casual consumers alike.
Around the early 90s, you can really see Fagan's vision coming to fruition in Dubarry's boating shoe arsenal. The introduction of GORE-TEX Technology, still an industry standard for technical boating footwear, was implemented with the already popular Shamrock design and a wide array of newer boating shoes being introduced by the company. However, Dubarry didn't stop innovating there.
That's the thing I've realized researching this company over the past few weeks: while most brands would get comfortable at the top of their game, Dubarry has consistently remained an industry leader by continuing to push new and exciting products. They truly are an Irish underdog, comparable to Sean Astin in 1993's "Rudy," but instead of dressing for one game and being paraded for it, Dubarry continues to push the game into a never-ending overtime where the competition is always losing and doesn't know what to expect next.
Dubarry introduced another unique piece of footwear in the late 90s — The Galway — which took the footwear market by storm. Inspired by The Shamrock, The Galway is both stylish and extremely practical. Instead of being another entry in the boating shoe market, the Galway is a "country boot" designed for women who thrive in the country lifestyle (a.k.a., hiking, horseback riding, or doing things in the mud).
Even though The Galway isn't necessarily a boating shoe, it still utilizes the same breathable GORE-TEX waterproof lining pioneered in The Shamrock. Both shoes, though technically different in intention, demonstrate the longstanding commitment to quality craftsmanship and practical design that have been driving Dubarry towards the top of the preppy footwear/clothing market since 1937.
Dubes in 21st Century
Since their humble origins and long history of staying true to their innovative and qualitative nature, Dubarry has expanded its brand into international markets beyond their successful footwear lineup. Their long-standing commitment to craftsmanship have earned the company, and specifically their assortment of boating shoes, a spot in the unofficial preppy hall of fame here at CCP.
-----
Here at CCP we carry a large selection of Dubarry's impressive inventory, and we thought we'd end this blog post by sharing some of our current favorites:
1.) Honeysuckle Pincord Pants
Dubarry didn't stop making women's clothing with The Galways, their inventory of women's clothing is truly illustrious. From shoes to jackets, Dubarry carries their commitment to quality across all ends of the wardrobe spectrum. That being said, we are particularly blown away by the Honeysuckle Pincord Pants here at CCP.
Designed for intensive technical use, such as through equestrian use, these slim fit jeans are designed to last a lifetime of usage while looking damn good doing it. Currently, we have a selection of sizes for these jeans in Navy, Mocha and Russet Brown colors.
2.) Davis Quilted Gilet
Coming in both Navy Blue and Olive colors, this quilted vest with a countoured back hemline has been a customer favorite for a while now. Dubarry crafted this item to serve two purposes: to add some flair to your winter clothing and to actually keep you warm.
Personally, I never buy vests because I've never found one that actually keeps me warm. Like anything else in Dubarry's inventory, this item is just as much practical as it is stylish, and I couldn't make that claim after trying on this comfy faux leather winter piece.
3.) Pacific Deck Shoe
I couldn't top off a list of CCP's favorite Dubarry items without including at least one footwear shoutout: that would be like only describing how good the breadsticks are at my favorite pizza place. The majority of this article was spent praising Dubarry's two most successful shoe designs, The Shamrock and The Galway, but not one of their more recent innovations in the shoe market — The Pacific Deck Shoe.
Utilizing some of Dubarry's famous deck shoe technology such as DryFast-DrySoft, this pair of footwear is luxuriously comfy and immeasurably practical. Unlike other certain boat shoes on the market that have a similar design, these bad boys actually could make a trip around the world in a small dinghy and live to tell the tale.
-----
If you liked reading up on the history of Dubarry and our current favorites featured in CCP's inventory, be sure to check out the rest of the collection for more great products not mentioned here!
|
Posted on September 14 2022