Must Love Dogs: Founder Emmie Howard of Southern Proper Opens Up About Life & Business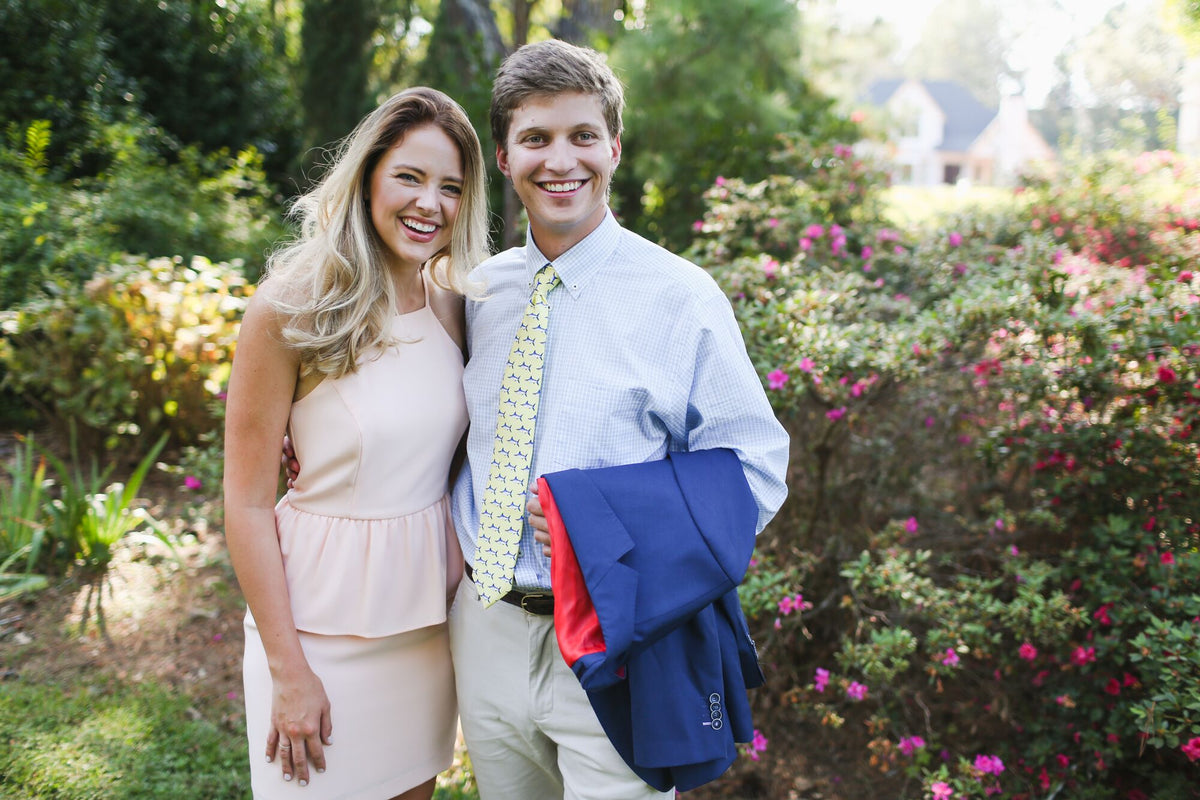 Like Country Club Prep's Facebook Page for More Awesome Content!
I had the pleasure of interviewing Emmie Howard, founder of
Southern Proper
. I've worked with Southern Proper alongside Country Club Prep for the past four years as a brand rep, and Southern Proper truly stands behind their brand values of authenticity, hospitality, style, and detail. Y'all, their
tee shirts
are the comfiest article of clothing I own, crafted out of Pima Cotton. 
What ignited the spark of passion in you to start a new business venture? How was the idea born?
"There's always been two things I've loved: Southern men and fashion. I've always had a passion for guys that dress well," said Howard. Growing up on a farm in Western Tennessee, the men in her family always looked their best on Sundays. Emmie Howard has always had a very preppy style, loving the popped collar with some sort of print or pattern. 
When getting ready to launch Southern Proper, Howard asked every guy in her life what came to their minds when they thought of the South. Men thought of how to properly treat a lady, hospitality, and some sort of family or hunting dog. 
The lab is very significant to the Southern culture and the Southern gentleman, and the bow tie made it appeal that much more. River, the black lab behind Southern Proper's logo, is Howard's personal dog.
Who or what is your greatest inspiration for starting your company? 
Southern gentleman and ladies wanting to influence what a man wears inspired Southern Proper. "Style isn't just the way you look, but how you act," shared Howard.

How did you establish this unique aesthetic/culture and why does this fit your brand? How are you distinguished from competitors?
Southern Proper is very authentic, as Howard grew up on a farm with hunting dogs, and guys in seersucker sport coats and bowties. Family is a core value to the way in which Southern Proper runs their business and their customers are treated like family, which allows them to build authentic relationships.
When Howard founded Southern Proper, she saw the Southern culture not becoming just a regional trend, but also a national trend. Southern Proper is very female driven becuase they believe that women influence what a man wears.
What business do you admire the most?
"Growing up, I loved Ralph Lauren and the preppy aesthetic that he built; it's such a classic look. I really love seeing the Southern influence in high fashion too, if you look at Billy Reid. I love what Reese Witherspoon is doing with Draper James, and I think Southern Proper is a nice compliment with that."
To what do you attribute your success?
Howard had no hesitation when attributing her success to her team. "We have some of the best people working for us and they've become my family. We've had a lot of competition, but our customers have remained very true since we are the original Southern company," shared Howard.
What's your life mantra?
"Better to be polite than always right," said Howard. Southern Proper stands by the golden rule of treating others the way you would like to be treated.
"Business is in the details" is Howard's business mantra. "Growing up, there were these books called 'Don't Sweat the Small Stuff,' but I think you should becuase it's the little things that can separate you in a crowd. With Southern Proper, it's the fun little flask pocket or the gentleman's jacket with the cigar pocket, the details that can separate your product," said Howard.

What's the greatest aspect of being the founder of Southern Proper?
"Southern Proper has given me so many opportunities to meet and work with great, unique people. I've learned a lot, and I am learning every day. I love that today is not like tomorrow," shared Howard.
How do you discover individuals to bring into your company that possess passion towards the brand the way you do?
Howard normally finds people to hire for Southern Proper through connections. Sarah O'Neal was a campus belle, interned, and is now director of social media. 
Where do you see yourself/Southern Proper in 5 years? 10 years?
"In 5 years, it is our goal to be the premiere Southern company. We would like to have our own retail space with a unique experience beyond just shopping. The world is our oyster and we would love to go back to the ladies line. I would like to write a set of books, like The Proper Series of Style or Modern Manners."
What's your biggest fear, and how do you manage fear? Do you believe in the American dream?
"Yes, I definitely believe in the American dream becuase I came from very humble beginnings. Instead of having fear, I've had faith. You're always fearful becuase the retail environment has been up and down. We always try to treat our customers with the upmost respect and care, so I hope that will translate for years and years."
Some folks believe in the myth of overnight success. What sacrifices have you made to become a successful entrepreneur? About how many hours do you work a day/week? What motivates you to keep going?
"When it's your business and your life, you can't put in enough hours. I work 7 days a week becuase there's always something to do. Timing can allow for luck, but overnight success doesn't exist. We're not just trying to build a lifestyle company, but a lasting legacy. Knowing that everyday is not the same and my passionate team is willing to put in the hours.. I have to put in more."
If you had the chance to start your career over again, what would you do differently? What are some of your greatest failures that have resulted in teaching you the most valuable lessons?
"I've always wondered why people call their brands Ralph Lauren, Billy Reid, or Lilly Pulitzer. The reason is becuase it's your name and no one else has that. When we named our brand Southern Proper, we were the only ones with 'Southern' in our name."
What advice would you give to aspiring entrepreneurs? Do you believe there is some sort of pattern or formula to becoming a successful entrepreneur?
"Don't be afraid to ask people for help becuase they're so willing to help you. When we started this business, I had no background in clothing, sourcing, manufacturing, or design."
If you were conducting this interview, what questions would you ask?
"I love the outdated Oprah question, what's on your iPod?"
What's your go to Spotify playlist?
"Secretly, I love hip-hop because some of the lyrics are very poetic. Sometimes I tease the team by quoting lyrics."
Thanks for reading CCP friends,
1 comment
I'm so very proud of you and all you have accomplished.