Seersucker: Where Did it Come From? The History of Seersucker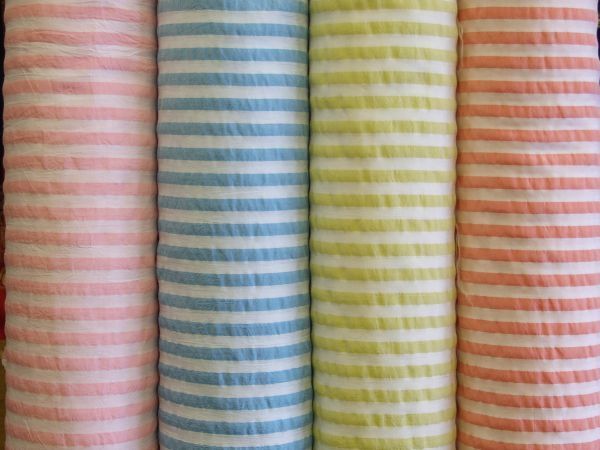 Like Country Club Prep's Facebook Page for More Awesome Content!
Let me set the stage for you. It is a warm, Spring or Summer day and you are off to a garden party or other outdoor event where it is just too hot and humid to wear a traditional suit or dress. So, what do you wear? You need something that will have you looking cool and feeling cool. Seersucker, of course!
As Southerners, we have been wearing Seersucker for decades, but are we actually familiar with the history behind the famous fabric? Here, I will be giving you the rundown of everything you need to know before you decide to rock that blue and white suit to your next social function.
To begin with, it goes without saying that the name of the fabric itself is quite interesting. When Seersucker was originally traded in India through the East India Company in the 1600s, it was known as "shirushakar" which, in Persian, is "milk and sugar." It was given this name because the first pattern that was created was made with a light tan (hence, sugar – cane sugar) and a creamy white (like sugar). Once the English adopted the fabric, they began to title it "Seersucker" and this is how we know it today.
The most common pattern in America is the traditional blue and white pattern, but Seersucker is also available in various other colors as well. Some common colors may be pink, yellow, green, or purple. The fabric is typically composed of 100% cotton that appears to be puckered and is constructed by pulling some warp yarns tighter than others. This is commonly referred to as slack-tension weave, which is a process that is defined exactly by its title. When using the slack-tension weave, the result is a crinkled fabric that seems to look puckered. Because it is wrinkled by nature, it is not necessary to iron the fabric and many individuals choose to pack Seersucker clothing for vacations because of this.
While Seersucker was imported to Europe in the 18th century, the fabric became popular in the USA at the turn of the century. While Seersucker styles are commonplace now, especially in the Southern regions, this was not always the case. It was always custom to be found dressed in black or neutral colored suits, never something as revolutionary as blue and white stripes. What a shame! The first time that Seersucker ever broke protocol was when Joseph Guerney Cannon appeared in front of President Roosevelt in 1903 wearing the striped suit. When Cannon was asked why he decided to abandon the traditional dress code, he confidently responded that is was just too hot. That was quite a bold move for the times, but this is not the only time a bold action has occurred in the fabric's history.
On a warm, Summer day in 1946, Joseph Haspel, Sr., the founder of Haspel, a clothing company for men in New Orleans, decided to turn his Seersucker suit into a makeshift bathing suit. He walked into the Atlantic Ocean neck deep wearing his suit, walked back out, and then hung his suit to dry over the tub in his hotel room. At the time, he was attending a convention located in Boca Raton, Florida, so he decided to wear the same exact suit to the Middle South Utilities Inc. banquet later that same evening. Those who had witnessed him enter the ocean earlier in the day were shocked that a suit was able to dry so fast and have the ability to endure the elements so well.
Haspel's Infamous Dive 
Haspel is not only known for his nontraditional swim in the ocean, but as mentioned before, he is the founder of Haspel of New Orleans. The company was first to mass produce the pattern as a suit and they continue to be known as one of the leading producers of all things Seersucker to this day. The mission of Haspel was to create garments that men could wear in the blazing heat of the South. He has certainly accomplished his mission, and his company has continued to deliver for many years.
Once the suit became a success throughout the South, Ivy League and East Coast style began to adopt this "dress down" manner after World War I and they quickly found it to be stylish. After Seersucker was saturated through these core regions, the pattern became a classic. From childhood to adulthood, most every American has worn one type of Seersucker garment or the other.
A few well-known celebrities who have owned a Seersucker suit are the former Duke of Windsor, Miles Davis, Gregory Peck (portraying Atticus Finch), Senator Trent Lott, and Jamie Foxx with his multicolored patchwork sport jacket he wore to the Kentucky Derby.
Jamie Foxx
Atticus Finch
Now that we have traveled through time and taken a dive (no pun intended, sorry Mr. Haspel) into the rich history of Seersucker, most thoroughly the Seersucker suit, I can now drop a few tips to help you make your selection of Seersucker painless. There is a right way and a wrong way to purchase Seersucker. Knockoff brands can imitate the treasured fabric by creating colored stripes on fabric, but as someone who now is informed with their history, you know that it is not true Seersucker unless there is a pucker present in the fabric. If there is a pucker texture, you can be assured that the fabric was woven with the slack-tension method and care was strategically put into the making of the garment.
While the Seersucker suit became the most famous article of clothing to promote the pattern and weave, many other garments from other product categories began to adopt Seersucker as well. Today, Seersucker can be found on items such as dresses, belts, caps, sunglass straps, shorts, and bow ties. Seersucker dresses have increased in popularity with Southern women because of their comfort and pattern compatibility for the Summer weather. Seersucker was once only worn by men, but once the pattern was developed in a way that women could also share in the fabric's relief from heat, it was an instant hit! This shift dress from Vineyard Vines is a perfect addition to a Summer wardrobe and it is also unique in offering three different colors of Seersucker, so you do not even have to decide on your favorite color.
Seersucker Dress
Belts, caps, and sunglass straps are excellent examples of where Seersucker has developed its dominance in the world of accessories. By including a pattern like this in an accessory, it allows for the wearer to incorporate Seersucker into their daily outfits. The belt found below from Country Club Prep is the ultimate accessory to make those normal looking pants look festive for the Summer by adding a little Seersucker (you could never go wrong with that). Southern Tide's Seersucker hat is a great item to toss on when you are attempting to escape the Summer heat, but still want to look great. The sunglass straps from Knot Clothing & Belt Co. are so subtle and give a touch of Summer to those sunglasses you find yourself wearing each and every day during the season.
Seersucker Belt
Seersucker Cap
Seersucker Sunglass Strap
Men have been rocking the Seersucker suit for some time now, but there is nothing they love more than throwing on a pair of Seersucker shorts during some of the hottest parts of the Summer. They carry the same effect as the infamous suit, but they contain even less fabric, so it is definitely a win-win situation to show off some of those blue and white shorts (or whichever color pattern your heart desires). The shorts pictured below from Country Club Prep are crafted incredibly well and would be the best item to wear this Summer when searching for something fashionable, yet functional.
Seersucker Shorts
It is a given that, besides dogs, bow ties are simply a man's best friend. They can be used when dressing up, dressing down, or worn whenever a bow tie is just a necessity. A bow tie by itself is incredible, but when Seersucker is added it quickly takes on a massive improvement. A bow tie in any color of Seersucker can turn any Summer outfit into something a little more special and will have you looking like a million bucks. This Seersucker Four Way Bow Tie from High Cotton is honestly one of my favorite pieces ever and looks great with an outfit that needs to be kicked up a notch.
Seersucker Bow Tie
Because Seersucker is a bolder pattern in itself, there is not much you have to add when styling such a piece. A note from Fashion Beans states, "If you usually wear an Oxford shirt under a light wool navy jacket, then continue to do so with your seersucker blazer. If you wear sand chinos and a white T-shirt, then a seersucker version can easily be substituted in with minimum fuss."
Now you are familiar with the history and origins of Seersucker and are able to grasp onto what it means to wear a garment with such rich beginnings. Next time you reach for that striped suit in your closet or purchase your very first one, I hope you will remember how Seersucker came to be and how it was adopted into the wardrobe of the preppy dressers of the United States.
Check out this video for a recap of Seersucker's history and for a few styling tips, and feel free to shop our very own seersucker collection!
|
Posted on March 13 2023
4 comments
I order from CCP when I see something that's iconic in the "prepster" world! I also order from you when I read the clever , informative and humorous articles that you include in your emails! Kudos for another well-written one!

Have always been a fan of this wonderful material, enjoyed the history.

I'm sold! Seersucker it is for my next pair of shorts. Great info!!