Top Holiday Gifts for the Preppy Dad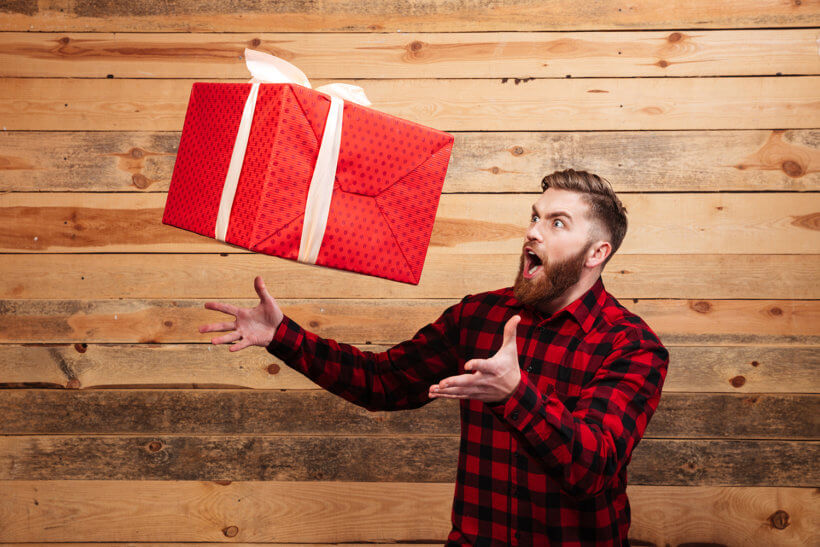 Like Country Club Prep's Facebook Page for More Awesome Content!
The holidays are rushing toward us faster than Santa's sleigh, and the last thing we want is for you to stress over buying gifts for loved ones and miss out on all the good cheer. When the holiday season approaches, there are three men we care about: ole Kris Kringle, Chevy Chase, and dear old dad.


The man who taught you how to tie a tie, lace up your boat shoes, and start a charge card at Brooks Brothers. The man who bought you your first pair of seersucker pants, and showed you how to craft your first mint julep. He was like a father to you, you know? The best father figure you ever had - your favorite father, even.


It's a fact: dads are under appreciated, especially at Christmas. They mowed the lawns (read: hired the lawn service), found the best lawyers when you "really didn't see the signs warning against public intoxication", and always brought you cool presents from business trips. Raising you kids was harder than it looked, and it's about time for dad to get the recognition he deserves. We'll say it - dad just might be the most important person to remember this Christmas.

That being said, he can be a difficult man to shop for. Quirky sets of themed boxers and grilling utensils only work for so many Christmases. Plus, you're a grown adult now, with a salary and everything! At this point in your life, you should be getting the old man more than a Home Depot gift card.

It's important to note that the key to buying Christmas gifts is... outdoing your siblings. You can't expect to put them to shame on Christmas morning if you only pick one or two of these items! That's why we've included a variety of items that, when bundled correctly, would make a fantastic set of presents for pops. Keep reading for a guide to shopping for the preppy dad this Christmas. Like what you see? Give it a click and shop around for a bit.
FOR THE FRAT FATHER


Fraternity means brotherhood, and brotherhood means forever. The last thing you want to do to a brother is take his frat away from him just because he might be too old to know the frat chants the boys are doing nowadays doesn't mean he can't rep the organization that gave him the best man at your parents' wedding and your three favorite godfathers. Don't see dad's fraternity? Keep perusing, Smathers & Branson have a wide variety of greek attire.


Royal purple and old gold for life. Sigma Alpha Epsilon Needlepoint Key Fob by Smathers & Branson, $32.50.
"Oh what, this old thing?" Help dad flex on everyone in the grocery store line. Pi Kappa Alpha Needlepoint Credit Card Wallet in Garnet by Smathers & Branson, $55.
Fratres usque ad aram fidelis. Kappa Alpha Order Needlepoint Hat in Navy by Smathers & Branson, $35.

FOR THE OLD MAN THAT LIVES OUTDOORS

If the joke "where'd dad go? All I see is a floating head!" cracks up your old man anytime he's in camo, look no further. If dad finds his rest in the backwoods or on the docks, that's his prerogative - we don't judge. So long as he knows that camo/fishing gear is NOT a genre of fashion, but instead viewed as attire worn for a specific type of outing. If he can get behind that, we support feeding his outdoor sport frenzy with these gifts. As a matter of fact, so do Smathers & Branson, Fripp, and Country Club Prep.
Bonus points if you've got each corresponding animal mounted in your house. Hunting Tracks Needlepoint Sunglass Strap by 39th Parallel, $23.
Maybe it's wishful thinking, but we think it's one of those "if you wear it, they will bite" situations. Great shirt = better fishing. 3 Freshwater Fish with Hooks Tee by Fripp Outdoors, $28.99.

This belt has the same intimidation factor as the dad who cocks his shotgun the first time he meets his daughter's boyfriend. Shotgun Shell Leather Belt in Brown by Country Club Prep, $59.50.

FOR THE DAD ON THE RUN


Sorry, I can't stop singing "Band On the Run" by Paul McCartney & Wings, but with "dad" instead of "band"... oof, I've been writing about dads for too long, I'm starting to make dad jokes myself. Guess I gotta take a break and get hip again, maybe surf Twitter or make a Tik Tok really fast - whatever it takes. BRB, folks.

Phew, okay, all good. Back to business. These products are perfect for the dad that just won't quit. He hits the gym, crushes the pitch, and closes a deal all before lunch. Whether he's running from meeting to meeting, terminal to terminal, or golf cart to tee, dad could use some helpful, durable, and clean cut accessories. These stellar supplies from Corkcicle, Southern Mash, and Over Under Clothing are here to make your Superman's load a little lighter.



If it's good enough for Oprah, it's good enough for dad. Classic 60 oz. Canteen in Matte Black by Corkcicle, $49.95. 
He taught you how to shave, so the least you can do is help him transport his shaving gear in style. Dewberry Waxed Travel Kit by Southern Marsh, $60.

There's nothing better than the smell of new leather. Bison Bi-Fold Wallet by Over Under Clothing, $85.

FOR THE PATRIOTIC POPS


We're talking about the dad who can't help but sing along to the Star Spangled Banner at the top of his lungs at every baseball game, or gets choked up when he sees the flag lowered to half staff. If he was Army, Navy, Air Force, Marines, or Coast Guard - tell him, from the bottom of our hearts, we thank him for his service. If he's just immensely proud of the nation he calls home - tell him we couldn't agree with the sentiment more if we tried. We know he shouts it from the rooftops as often as he can, but what's the harm in giving him a few more ways to show how proud he is of the ONLY back to back, undefeated world war champion. No one understands patriotism more than Smathers & Branson, Bird Dog Bay, and Over Under Clothing.



We can enjoy can coolers because your dad fought to keep America free. Hell yeah, man. Armed Forces Needlepoint Can Cooler by Smathers & Branson, $29.50. 

None of that pungent middle school brand, we only want the TRUE American eagle here. American Eagle Bow Tie by Bird Dog Bay, $29.99.


A special crossover for our hunting patriots - what says "hell yeah, America" better than the Star Spangled Banner crafted out of fishing poles, rifles, fish and birds?? Long Sleeve Shotgun Flag T-Shirt by Over Under Clothing, $42.
HONORABLE MENTIONS

They don't necessarily fit in a list, but we just COULDN'T leave these out. They would make great stocking stuffers, add ons to bundles that aren't quite finished, or serve as awesome side gifts! Truthfully, we just loved them because they were all dad-related, and it felt like a crime to leave them off the list. They're all Smathers & Branson, we're well aware... we just love them so dearly, it's so hard to only mention them a few times!


It's the truth - you think Smathers & Branson would lie?! World's Best Dad Needlepoint Bottle Opener by Smathers & Branson, $28.50. 

Gotta be a dad to be a grandpa! Bonus points if this gift is your way of telling ole dad that you and the missus are expecting. Grandpa's Cough Syrup Needlepoint Can Cooler by Smathers & Branson, $29.50. 

This is more a present for you, but it's a nice way to remind dad where that money is funneled. Bank of Dad Needlepoint Credit Card Wallet by Smathers & Branson, $55.

We hope this eased the holiday stress a bit. Like we said, if you think dad would be a fan, give it a click and shop around. Be sure to post pictures of dad with his new goodies and tag us on Instagram, Twitter, and the social media dominated by dads, Facebook. We love seeing who's repping CCP!

If you liked this blog (don't lie, Santa's watching), like, comment and share to let us know!
|
Posted on November 25 2019